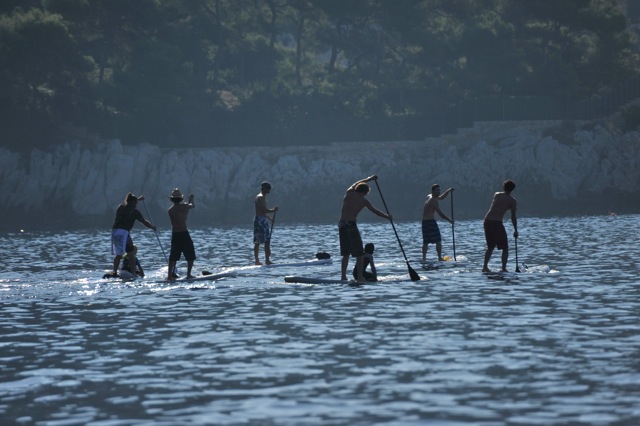 ©Val Leferme
Freebluetour
The Freebluetour is the element founder of the association loïc leferme designed by Marc Counil his friend. This is for participants to complete a distance at sea about 4 km swimming, swimming with palm, paddle, kayaking ... It's held every year (except 2012). This is a friendly race based on the pleasure of being together on and in the water: the best way to pay tribute to Loïc.
A nice wind is invited Saturday afternoon ... No Swimandrun with Alex but a nice evening together and how FBT some sport friends ... Every year the spirit of this tribute to Loïc continues: two new freebluetouriens, Charlotte which sometimes dips Cipa and Cyril, musician ... See you next year!
Under the Freebluetour 2016 loïc leferme association, we organize collective training swim & run Saturday, September 16: appointment 5:30 p.m. passable beach (parking Lido) starting 6:00 p.m. 2 courses to choose from - initiation and information expert 06 14 81 06 22 or vleferme@gmail.com!
​
After the warm welcome of Pierre Frolla the Ecole Bleue in Monaco in 2015, and Loïc Bermond Alexandre Brenda organize the Freebluetour 2016: an original test, the Swimandrun, run and swim around the Cape! The race will take place in the afternoon and after barbecue!
it is a collective training in good humor and in communion with Loïc.
If you want to participate, send us your intention on vleferme@gmail.com
Donations to the association are welcome because we would like to promote their website ....
See you Saturday! Follow us on Facebook for appointments accurate!
fb page: Freebluetour - Tribute to loïc leferme
​
This year, the Rescue Centre and School Blue Peter Frolla in Monaco welcomed the Freebluetour! team sport, joy of being together, friendship and welcome new Loïc ... the values were there ...
A class that does not change, true to its core values.
See you next year! Thank you all.
http://www.monacochannel.mc/Chaines/Monaco-Info-Les-Reportages/Videos/Le-Free-Blue-Tour-accoste-au-Larvotto