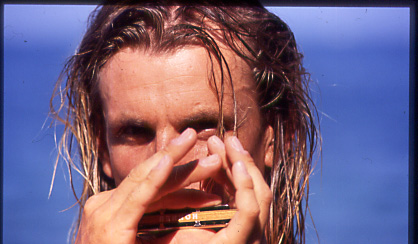 ©JM Cottalorda
Influences
Adventure Sport
Here are 3 personalities Loïc admired for their total commitment, their innovation and pioneering spirit ...
http://fr.wikipedia.org/wiki/Reinhold_Messner
http://www.la-grande-traversee.com/berhault.php
Music
Yann VACHER evokes Loïc and his musical influences.
"Pote of college, with Loïc they were room-mate 2CV, music scene, home, or shelters and cliffs."
Or
"A member of 'p'tits copains', a troop of STAPS sharing meals, sport and music"
Or more seriously:
"Teacher and researcher at the University of Corsica, singer Peanuts and Loïc faculty's buddy"

Loïc and music
The body
It will surprise no one but Loïc and music is above all a carnal history. As in climbing or snorkeling, Loïc was looking for this musical wave that runs through his body. By blowing his harmonica, by hitting the skin of congas, or dancing on the bass, Loïc loved to feel his body caught in the rhythm. The solo harmonica to the percussive locomotive, the entire range of carnal pleasures and musical happening one day at his desk.
The others
Play was also Loïc sharing; play with, play for.
Friends improvised beef or more stable formation, Loïc giving and receiving of others generously. But it was also "play to" do the show, be first in line. Harmonica soloist or singer / dancer with peanuts, Loïc imagined star and didn't care a bit
Les Peanuts
Yann Vacher et Christophe Creuly, another student friend evoke the band they created together ...
« Les Peanuts is 3 things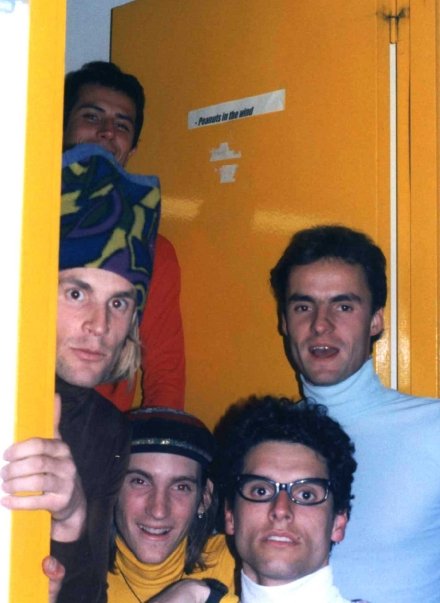 Anything, anything and ... anything.
A garage band in the etymological sense of the term... Solid no musical training (miss more than that), only the drummer Hugo pianist was !
Let the Peanuts are not a band but a noise group and friends. Desperate to be together, that it shows ... and hear!
The groove was permanent but inaccessible quest. Tof, bass, yet tried to place his modest binotal directory, but nothing worked.
Yet energy, there flowed through the amps and jacks. Yoc (guitar) and Hugo try to fit the team well but the latter remained wild. Singing and dancing, with Loïc, we realize boldly. Sing off half naked songs that we did not know was among the displaced group norms. When guests arrive (James Dean on guitar, sax Olive L., Olive O. to the percussion musical frail skiff took off.
Energy, yet energy; anyway no choice, with friendship there was it only !!!
Like all great groups (sic), the balance could not last (friendship yes) and from 1993 to 1995 the group had 5 concerts... But what concerts
In fact Peanuts is 2 things : Anything, anything »
Yann
"Just the name of the group is a synthesis of everything that can be said about this music thing ... In any case rest assured the years pass but nothing would change if we replayed. I remain convinced.
A long time ago we find most often in the mountains with Loïc on the college bench and it was normal. Loïc was driving with a 2CV without brakes which one was operating the accelerator by hand using a cable .... and again, it was normal. Rehearsals? Did not .. Normal .. scales to refine the sound of the concert either .. Normal. The concert that you can see on Youtube makes me smile every time. Initially a springboard Rock, it has played as Funk Festif... Normal.
.. In all I will give to revive the expensive set.. »
Creuly Christophe say 'ToF' Basse

la chaine des Peanuts
Long train
The effort
As to achieve the high level apnea Loïc spends a lot of time learning the music. First percussion with olive Oberson then himself on harmonica in his college dormitory room. Disks of Robert Johnson and Sonny Boy Williamson and Jean-Jacques Milteau turn loop sometimes to the chagrin of its neighbors ... An obsession with the absolute, touch the blue note and no longer be song ... Touch the deepest part and nothing more ...
The escape
Finally the music is escapism, Coldplay installed to helmet ... a door opened to let go. But the escape was also fun. Roof open in the 2CV, Arrested Development saturating the modest speakers and notes that resonates in the valleys of the hinterland of Nice ... Escape in music, take off surfing notes that speak to us.
Coldplay
Lucky Peterson
Billy Branch
Hoochie Coochie Man
Hoochie Coochie Man
Jean-Jacques Milteau
Long time gone
John William Coltrane
LIVE ANTIBES 65 HQ
Cuban salsa
The energy overflowed congas. He danced with the hands, vibrate with the body, freed, as in sport, a youthful fire.
Eddie Palmieri
Irakere
Bacalao Con Pan
Funk
It was the dance and song, the copied sentences and phrases or invented to put the chin and to fill their heads. And this song, James, Macéo, Keziah ... the chance of showman enlisted by the groove.
James Brown
Tower of Power
Down to the Nightclub
Maceo Parker
Shake everything you've got
Kezia Jones
Rythm Is Love
Jazz
The meeting with the technique and the blue note: Miles, Coltrane. Even if he doesn't play, he admired the precision, creativity and emotion. For him Hendrix was a Jazzman it's It's certain. In jazz he finds the absolute and perfection, effort and ease ...
Ravi Shankar
http://www.ravishankar.org/
Red Hot chilly pepper
http://www.youtube.com/watch?v=BfOdWSiyWoc
Rage against the Machine
http://www.youtube.com/watch?v=yx_MEwiIIxE
Grandmaster Flash
http://www.youtube.com/watch?v=36FXrPTYK1Q
Eminem
Beastie boys : Live at PJ's
http://www.dailymotion.com/video/x765gr_roskilde-2007-beastie-boys-live-at_music
Artists of FREE BLUE TOUR
Photos of concert:
http://freebluetour.loicleferme.fr/?page_id=291

Shoot to kill
Medi
http://www.medithemusic.com/
Timothée
Lily of the Valley
The Shark
Les Squatters
Pascal Mono
Bernard Abeille