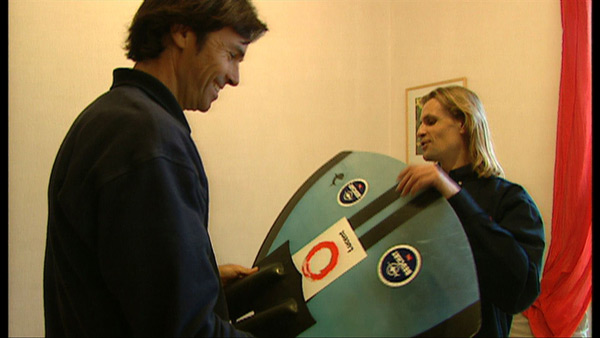 Eric Bacos
Producer and director
"In the late 90s I was in charge of a program on M6 (Sports Events) and we had to spend time with Umberto Pellizari at the top of his flamboyance. A friend insisted that we go for a walk Nice side to meet a diver coming down far and above that would surprise us.
I have not been disappointed, myths apnea, starting with Mayol collapsed in seconds. I had in front of me a top athlete, but simple, smiling, which replaced the breathing exercises for them, getting rid of mysticism which some liked to surround himself in that environment, and who did not hesitate to undergo batteries of scientific tests to understand how he could one day get down to -200m.     
I found Loïc a few months later on an early edition of "Etoiles" of sports. Dominique Lanson had the very good idea to slip it into his luggage for him to come with Guillaume Nery as young hope
The man had charisma but he was often in doubt. Loïc was not ready for any compromise to balance its budgets.
They spent the week of the "Etoiles" of their ardor, to contact Loïc did the rest.
Loïc The impact will be incredible. A few months later in the pool at The Palmyra summer schools it will put the champions of "Etoiles" in water and show them what really breathing, let go taking ... Jason Lamy Chapuis since become Nordic combined Olympic champion likes to say that his meeting with Loïc was decisive in preparing themselves.
I already had a little dragged into the water at the time of Umberto. But here at the Summer Universities I was with Bernard Crepel (of Quiksilver, great surfer and great physical ability). We were full speed like kids on all the exercises proposed Loïc. He had the talent to make everything accessible. Each edition of these universities was the Big recreates that we looked forward to even more than his sets on harmonica.
In this world of board sports and outdoor I have often been confronted with "bad news". At the time I was convinced, however, that two champions stood out and were not going to be exposed to these red areas to the sometimes tragic outcome.
The first was Patrick Gayardon, pioneer Skysurf and wing combinations in base jumping, if pro, so meticulous ... A careless lack of it made me feel ... The second was Loïc, he had to hold La Plagne reassuring and sensible discourse on the limits of risk taking .... But a few weeks later in the desperately sad and empty swimming pool of the Palmyra, I did some laps under water now convinced that I not be able to put my head under water as before.
"Les Etoiles du Sport": School of Champions", a 52 minute documentary broadcast on France 4, Wednesday, December 28 at the stroke of midnight.
It is the event of this season. All the great champions who have participated for 10 years in this great human adventure will give evidence. This is what makes the originality and strength of the idea of ​​sponsorship, transmission and sharing between sports. It's a different outlook on what has become a real family, with young people who in turn become of great champion. A family sharing its joys, its pains and even dramas. The documentary also aims to demonstrate that beyond the images of French sports stars who find themselves, there are solid foundations around the values ​​that animate all those champions. They allowed the "Etoiles" to enroll in the time and become one of the major concepts of the French elite sport.
France 4, Wednesday, December 28 shortly after midnight, 52 minutes achievement Eric BACOS.
Co generation Ultra Sport and Alizeum sport.